Divorce and Back-to-School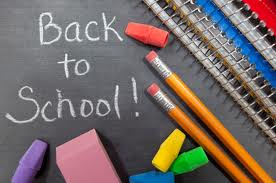 Summer schedules are often quite different from the school year routine.  Summer is full of outdoor activities, swimming pools, get-togethers with friends, vacations, visits with family, later bed-times and sleeping in. 
Transitioning back into a 'regular' school routine can be stressful for parents and kids.  There are new teachers, sometimes new schools and new schedules.  Try to minimize other changes and stresses during this time so you and your children can ease back into a consistent routine.
Tips for a smoother back-to-school transition:
Slowly adjust your children's bedtimes to get ready for school starting.  It will be easier to gradually change bed-time than suddenly trying to get your kids to go to sleep two hours earlier than they have been over the summer months.
Talk occasionally in the couple weeks beforehand about what to expect once school starts, so your kids can start preparing mentally.  Don't spring it on them at the last minute.
Talk ahead of time with your former partner about how you're going to handle the new schedule – the drop-off, the pick-up, homework, after-school time, school events, school supplies, other outside activities, sharing information from school, etc.
Be sure both of you are involved in the plan so both of you can talk with your children about it.  Being on the same page and appearing as a united front is very comforting to children.
Do

not

argue about the schedule/plan in earshot of your kids.  This is very damaging and upsetting to children.
Show excitement about school starting.  Don't complain about the logistics or the school supply lists.  Be mindful of the example you're setting and the attitude you want your kids to have as they begin a new school year.
Let your children's teachers know the situation at home and let them know you're interested in their feedback.  Most teachers appreciate this because it helps them understand your kids better and enables them to better serve them.  It will also help you assess how your children are doing with the divorce.
Find out if your child's school has a program for kids going through divorce.  Many schools do.  It's helpful for children to know they're not the only ones in this situation.  Plus they are more likely to share their experiences with their peers in a private, safe environment.
If you only have your children with you on the weekends, be proactive and ask about what's going on at school so you can be as involved as possible.  See if you can help out with homework questions (over the phone or skype).  Many schools allow parents to sign up for times they can have lunch with their children.
If you have your children during the weekdays, share the information you get from school with the other parent.  Keeping them informed builds trust and allows them to be a better parent for your kids, whereas keeping them out of the loop ultimately hurts your children.
Recognize that there may be a few bumps or hiccups in the first few weeks as everyone adjusts to the new schedule, so cut yourself and your kids a little slack.  Give your children encouragement and a few extra hugs.  Take a deep breath before interacting with your ex, and focus on staying positive.  Go easy on your self – relax and enjoy the journey