Divorce Thoughts on Father's Day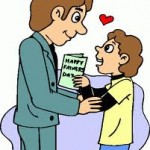 First of all, Happy Father's Day to all the dads out there!!  This is a day to celebrate you and all that you do as fathers, and the special relationship you have with your children.
When couples divorce, they often have a set schedule for when the children are with each parent, and if they live in the same area, this usually includes an every-other-weekend component. 
I want to make a suggestion – no, really this is a plea! – to be flexible and generous when it comes to special days like Father's Day, Mother's Day and birthdays.
If you're the mom and Father's Day falls on "your" weekend with the kids, please be open to rearranging the schedule a bit so your kids can spend time with their dad on Father's Day.  Maybe you share the weekend before and the weekend of.  Or maybe the kids go over to their dad's for a portion of the day.
If that won't work, then be creative.  Maybe you can plan for another day (they're scheduled to be with Dad) to be "Father's Day" for them.
My next plea is that you help your kids be able to either purchase a card for Dad or make him one.  I realize you're no longer married and you may feel like this shouldn't be your job any more.  But it's not about you doing something nice for your former husband; it's about doing something for your children.
Your kids will feel really good about being able to present something to Dad when they see him.  It will also foster more goodwill between you and your children.  They will appreciate you supporting a positive relationship with their dad, even if they aren't able to articulate it.  Believe me, it makes a huge difference!
And, to the dads who are reading this: please do the same thing when Mother's Day or your ex-wife's birthday rolls around.  I know you may not have been the one in the family who made sure cards were purchased, or made, or sent, but please be more mindful of the times when cards or gifts might be appropriate, and encourage and help your kids to get or create them.
My daughter spent some time at my house on Friday after school making a very cool Father's Day card for her dad.  She was excited to show it to me, and I let her know how beautiful and creative I thought it was.  I want her to feel comfortable sharing these types of things with me. 
If your kids are afraid to share positive thoughts with you about their other parent, they will pull back from you, and your relationship with them will suffer.  Open, supportive communication is best, and will result in the happiest, closest family possible.
So go ahead and mark your calendar for those days you know are important to your former spouse, and make the effort to support your children in enjoying those days with them.  This won't just be good for your ex; it will be good for ALL of you.