Handling Everything Yourself After Divorce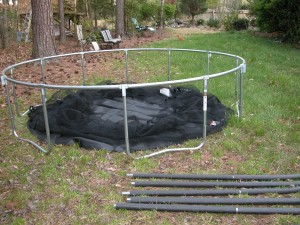 One of the many things I've been working on today is putting together the trampoline my daughter's been dying for. She's at her dad's this weekend and she'll be thrilled when she comes back and sees it, so I'm excited about it. But….
It's days like this when I think how much easier it would be if there were TWO of us here, and one being of the male persuasion. I'm fairly strong and am actually pretty good at putting things together and doing basic home repairs, but I'm 5'2" so sometimes I could really use some assistance. I mean, I can't even reach the top shelf at the grocery store…that's embarrassing.
But it can be tough when you're living by yourself, running a household, working, and being a parent. There are times you might feel overwhelmed. After divorce, moms often struggle with handling home repairs, yard work, car repairs and things you don't think of like moving something large or heavy to or from the attic. Dads often struggle with staying on top of the laundry, the grocery shopping, the meal planning, the school activities & homework, and other household chores.
I know these are stereotypical, but they are common and can be a huge shock after years of marriage where all the responsibilities and tasks were divided between you. So look around you and see what friends or family you have that might be able to help you occasionally with the things you simply can't do by yourself. And maybe you can do something for them in return. Or if you're able to hire someone (say for yardwork or housework), then go for it.
Since I've done what I can on this trampoline by myself, I'm going to have a couple neighbors come over tomorrow to help finish it. And then it's bouncy time!!
Right now, I'm going to get the lawnmower out and start mowing…yippee!!