Attention: Parents who have made the decision to get divorced, but haven't told anyone yet, and are worried about how people might react when you tell them…
"Discover How To Tell Your Friends and Family That You're Getting Divorced So You Can Get the Support You Need To Keep It Amicable"
Wouldn't it be great to set the tone right from the beginning for how you want your divorce experience to be for you and your children?
 
 
From: Marlene Clay, Divorced Happily Ever After Coach
Raleigh, North Carolina
Monday, 8:00pm
Dear Fellow Parent,
I know that if you've just decided to get divorced that it can be a really scary time.  I've been there.  There are so many different emotions – sadness, anger, fear, guilt, etc.  One of the fears is about telling your friends and family.  How will they react?  What will they think?  What if they ask a lot of questions and you don't feel comfortable sharing the details? 
I went through all of this and I put off telling people as long as I could because I was so worried about what everyone was going to think, and how they were going to treat me.  What I learned is that most people just want you to be happy and they want to help…BUT…they don't know how.
People want to help, but often they make things worse.
 
Here's what happens.  You tell your friend that you're getting divorced and immediately they start telling you about the nightmare divorce their other friend just went through, and how awful it's been for the kids, and on and on.  Now you feel like crap.  Thanks a lot, right?
Or you tell your friend you're getting divorced and they tell you how much they've always disliked your spouse, and how glad they are that you're finally getting away from that horrible person.  Now they start going into all the ways your spouse is a jerk. 
You may agree, but the problem here is that now you're focused on the negative and you've got a negativity partner to help reinforce those thoughts and ideas.  It may seem nice to have someone "on your side", but ultimately it will make it more difficult to work together with your spouse so your kids can come through this as healthy as possible.
You need to let people know how they can help you through this transition period.
It's so important to tell people what they can do to be supportive AND what you don't want them to do (talk negatively, tell horror stories, etc).  This can be done in a way that's simple and clear, and feels right to you. 
That's why I created the How To Tell Your Friends and Family That You're Getting Divorced kit.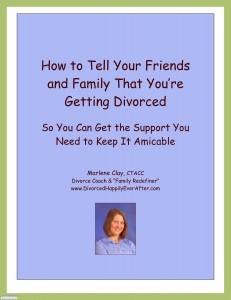 If you want to have a more harmonious divorce experience for you and your children, it's crucial that you make that clear to everyone you interact with.
I know that so many parents, just like you, want to keep things amicable and want to do what's best for their children.  But they don't know how to manage all the outside influences and they're unsure what to say to people.  They feel alone and they feel like they have little control over the situation.
This divorce conversation kit walks you through all the steps to having easy, comfortable conversations with everyone in your life about your decision and how they can support you.  Not only does it help you figure out who you need to tell and in what way, but includes six different sample letters you can use.  The sample letters are so helpful because they give you the language to use, and show you how you can be strong and set boundaries while being genuine and loving. 
Using this kit will help you:
Gain confidence in talking about your divorce
Set healthy boundaries
Get the support you need
Be a great role model for your children
Have a more harmonious divorce
Strengthen your relationships with your friends and family
If you already know this is exactly what you need, just click below to order right now.
Want to know exactly what you'll get in your How to Tell Your Friends and Family That You're Getting Divorced Kit?
Here's the scoop ~
In your kit, I'll guide you step by step as you learn:
A new way to look at your divorce that will help you talk about it more easily
Whom to tell and how to tell them
Why it's important not to put off these conversations
The answers to questions that parents commonly ask about sharing their divorce news
How to use the 6 different Sample Letters to help you with your conversations
Clear, simple responses you can give people when they ask you questions about your divorce
Confidence and comfort in setting boundaries with loved ones
How to get a solid support team behind you so you can focus on helping your kids through the process
The power and freedom that come from being in control of your situation
But wait, there's more!  There are also 2 amazing bonuses!!
Free Bonus #1  (a $15 value)
You may be most worried about telling your children that you're getting divorced.  What should you say?  How will they react?  How much should you tell them?  I know how upsetting and nerve-wracking this can be.  So I'm including How To Tell Your Kids That You're Getting Divorced So They Can Get the Support They Need for FREE!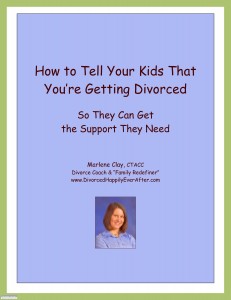 This report includes:
How and when to tell your kids
What to tell your kids
What reactions are common (broken down by age group)
What you must say
What you should never say
Free Bonus #2   (a $40 value)
A 15-minute "How to Talk About Divorce" session with me.  You get to ask me any questions that you have about the material or about your particular situation.  If you want, you can practice on me and I can give you feedback.  It's up to you.  It's your 15 minutes to use in whatever way is most helpful to you.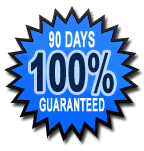 My Personal "I Want You Happy" Guarantee:
Take a full three months to use the divorce conversation kit at NO RISK.
I'm 100% confident that if you read the material, do the exercises and follow the examples, you'll have positive results sharing your divorce news with your friends, family and children.
If the samples and techniques I share don't produce the results you were looking for, just ask me for a refund within 90 days of your purchase.
No reason needed.  No hassles.  That's a promise because I want you happy.
Are you ready to get your copies of
How To Tell Your Friends and Family That You're Getting Divorced So You Can Get the Support You Need
and
How To Tell Your Kids That You're Getting Divorced So They Can Get the Support They Need?
Yes, Marlene, I'm ready to learn how to tell my friends and family that I'm getting divorced in a way that's positive and empowering!
I understand that:
I'll receive your How To Tell Your Friends and Family That You're Getting Divorced kit, which includes 6 sample letters.
I'll receive instant access to the kit, which is downloadable.
As a bonus, I'll also receive instant access to How To Tell Your Kids You're Getting Divorced, which is a downloadable report. (a $17 value)
As an additional bonus, I'll get a 15-minute session with you, which will be held over the telephone. (a $40 value)
There is NO RISK whatsoever, because it comes with a full money back guarantee which I can request anytime up to 90 days after purchase.
Download yours right now for just $37
I look forward to talking with you soon!
Marlene Clay
Divorce Coach
P.S. – It will be such a relief to know what to say and how to say it, so go ahead and start taking control right now.  With such a low investment amount, plus a full money back guarantee, it's really a no-brainer. 
Any questions?  I'm happy to answer them.
Simply contact me at marlene@DivorcedHappilyEverAfter.com
© 2010 Marlene Clay / DivorcedHappilyEverAfter.com
All Rights Reserved.