Divorce: Start A New Tradition With Your Kids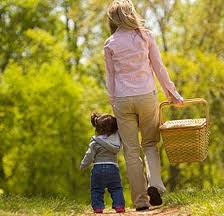 Many families have traditions, like an annual family trip to a special place, or a special celebration on Christmas Eve, or a Friday night eating place.  Maybe you've been spending every Thanksgiving with your in-laws or make a trip each year to Disney World because your spouse's best friend lives in Orlando.  Maybe your spouse made a special breakfast on Saturday mornings or you ate dinner at your parents' house every Sunday.
Traditions can be a lot of fun because they can be something to look forward to that create wonderful lifetime memories.  Sometimes they're passed down from generation to generation, giving them even more meaning.  If your family didn't have any traditions, then this is a good time to start one.  And if you had one that clearly isn't going to be possible going forward because of the divorce, then it's a great time to start a new one.
Some traditions may continue with your ex and the children, but will no longer include you.  For instance, the trip to Disney I mentioned where your spouse's best friend lives.  Or Thanksgiving with your in-laws.  And you may continue some with your kids that no longer include your ex.  Like dinner with your parents.  But I encourage you to start something new, that won't remind your children that someone is missing.
It doesn't have to be big, like a trip, it just needs to be special and not something you do every day.  You want your kids to look forward to it and remember it fondly as they move into adulthood.  It could have so much meaning for them that they want to carry it forward and do it with their own children one day.
Here are some examples from my own childhood:
Often on weekends, my father would make special pancakes for us in the shapes of animals or other objects (he took requests!)
After church on Sundays, my mother would let us (the kids) chose any place we wanted to eat lunch (I think we took turns choosing so there were no arguments J)
Birthday celebrations were a big deal in my family and we still celebrate all of them (including the adults), in person if possible
We made a trip to the beach each summer and we took a trip to the mountains each summer (these were both drivable where I grew up)
We visited our grandparents every so often and had special things we only got or did there.  I remember that my mother's parents had a bowl with butterscotch candies in it and I would get to have one.  They also taught me to put peanut butter between two Nilla wafers and eat them like a sandwich – delicious!  And I never got that at home – only at their house.
Other options to get your own ideas flowing:
Have a picnic at a special location each spring and each fall
Do movie night together at home once a month (make popcorn or some other special snack)
Have one night a month that the kids make dinner (if they're old enough)
Go to the library together once or twice a month and check out books – pick one to read together (if your children can already read – otherwise you'll read all of them together of course)
Have an annual or semi-annual camping trip
Have a bedtime ritual (read a book, sing a song, share 3 things you're grateful for, etc)
Have a game night once or twice a month.
Send your children postcards every time you go out of town.
Have fun coming up with your own traditions and ENJOY them!  Your kids will really appreciate it.  There will be so much of their childhood that they don't remember – but these very special times with you that are repeated will be cherished by them…and by you.