Co-Parents: Every-day Superheroes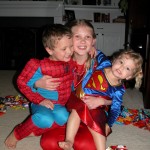 This Halloween showed me what true superheroes are, and there's no costume needed.  They're people who have made a conscious choice to come together in peace and partnership to co-parent their children.
I grew up watching and wanting to be Wonder Woman.  In fact, I even had Wonder Woman Underoos.  If you're in your thirties or early forties, you probably remember what Underoos were.  If not, well, they were sort of a cross between underwear and pajamas with superhero prints on them.  My brother and I played in them (in the house) and slept in them. 
And I watched Wonder Woman on TV regularly.  And the Incredible Hulk.  And the Six Million Dollar Man.  And Superfriends.  And the Bionic Woman.  But I really wanted to be Wonder Woman.  So this year I finally was…for a night…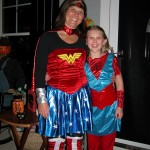 Halloween is a fun time to decorate, dress up with your kids, carve pumpkins, eat candy, see your neighbors.  This year our "family" theme was superheroes and we went trick-or-treating together.  My ex-husband was Batman, his wife was Batgirl, their daughter was Supergirl, their son was Spiderman, our daughter was Spidergirl, and I was Wonder Woman. 
A whole superhero family.
And we really are.  Each of us is a superhero in our own unique way. 
My ex-husband and his wife are super parents and they go above and beyond the call of duty when it comes to including me in family activities.  They invite me over for dinner and ask me along to community events.
Their kids (I want to call them my step-kids, but technically they're not) make me weak-kneed with a hug or a giggle, or a simple "please stay"….oh, my heart…
My daughter epitomizes the words "sweet" and "caring".  She excels as a big sister and shows kindness to every living being she comes in contact with.  Feeling her hand in mine or looking in her big blue eyes, and I believe everything is possible.
I know our kids are watching us and learning from us every day.  And it is my deep desire that they learn what a true hero is.  That they see our strengths and our commitment to what it is good and true.  That they learn love and compassion and kindness and forgiveness, and all the traits that make every-day people super and heroic.
I strive to be Wonder Woman every day, no matter the outfit.  Not by having super powers or being invincible, but by being authentic and standing in my power as a woman and a mother, and by inspiring wonder and passion in others.
What do you desire?
Choose your own superhero alter-ego and pretend you've got Underoos on under your clothes.  Parent knowing that you're raising a mini superhero, who must learn from you how to defend the defenseless, love the unlovable, share with the stingy, outshine evil, forgive hurts, show courage, speak the truth, live passionately, and appreciate every experience.
You have power .  You are super.  You are a hero.  Let's save the world, one family at a time.
4 comments