Divorce: Letting Go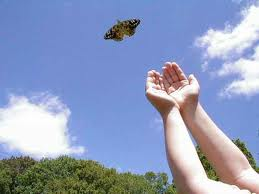 I just turned 40 last week and I spent some time reflecting on my life so far – all the things I've done, some things I've not done.  What I'm proud of, what I'm not so proud of.  What matters most to me, what I want for this next year of my life.
I also thought about how perfectly everything happens in our lives, even though we can rarely see it at the time.  From love to heartbreak, joy to sadness, every experience teaches us what we need to learn at that time.
I'm currently going through a process of letting go.  Letting go of all that is not serving my highest good.  There's actually a lot that fits in that category and it's a little scary.  For example, I've got some fears that I'm ready to let go of so I will no longer be held back by them.  I've got some physical clutter that I want to let go of because I hate seeing it around my house and it adds stress to my life.  I want to feel at peace in my home.
I've got some old beliefs created in my childhood that no longer make sense in my life, but keep me feeling stuck or reacting in ways I don't want to.  I've got some emotional baggage from past relationships (with friends, romantic partners, family members) that I'm ready to release so it no longer has a hold on me.
Letting go can be difficult.  But the rewards are great. 
When we let go of anything that's weighing us down, hurting us, or simply not serving us, we create space for something else to come into our lives.  A new relationship, a new belief, a new confidence, a new perspective, a new joy, a new mindset. 
When going through divorce, there is a lot to let go of and you certainly don't have to do it all at once.  But letting go is the key to moving forward, to finding peace, to enjoying life. 
Let go of negative emotions (anger, resentment, guilt, shame, etc).  Let go of the expectations and hopes you had for your marriage.  Let go of the desire to change the past.  Let go of the need to control.  Let go of blame.  Let go of self-criticism.  Let go of competing.  Let go of old clothes, old jewelry, old objects that are no longer useful or meaningful to you.
And as you let go, you will open to receive.  It is almost magical how it happens.
You will create space and it will be filled.  And you will be pleasantly surprised.  You will discover that you can feel joy again, that wonderful things do happen to you and that letting go doesn't mean losing anything.
For assistance in letting go of old beliefs that are keeping you stuck, I offer breakthrough sessions that enable you to quickly discover what's holding you back and release it so you can move forward in your life.  Ask me for details!